MBSCLICK IS MADE FOR YOU!
THE MBSCLICK SERVICE INCLUDES
Consumables and delivery on D+2 in metropolitan France
(excluding paper and staples)
Maintenance kits and their installation
On-site maintenance on D+1 of equipment throughout the contract period
A single point of contact at the support centre in France…and Switzerland
A single quarterly bill
No minimum volume imposed
A maintenance tracking tool
Discover our product ranges, all quotation requests require analysis with the customer in order to propose the most appropriate products.
The products presented below are an example of the products we can offer, with a broad range of available options. 
KYOCERA EQUIPMENT
Kyocera printer – monochrome – laser
Bench optional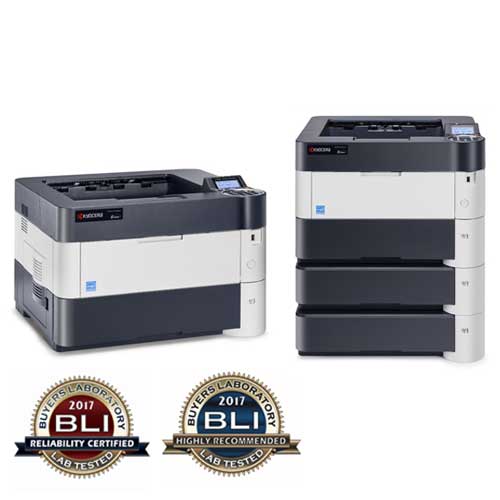 Environmentally responsible: ECOSYS technology, the only consumable to change is the toner, to reduce waste
Compactness: compact design combining robustness and reliability
Speed: fast 1st printout, in less than 4.9 second, and a print rate of 60 ppm
Easy to use: alphanumeric keypad for easy password input (private printing)
Silent: in silent mode, the printer reduces its sound level and can be placed near users without disturbing them
This printer offering print rates of 60 ppm can handle high print volumes and production peaks while being compact and silent thanks to the silent mode. It can manage private printouts and boxes of documents can be created to store recurrent documents to print. Its flexibility can manage different types of paper with optional trays, its speed with the 1st page printout in under 4.9 seconds makes it a must-have for workgroups needing reliability and productivity.
Kyocera multifunction printer (colour) – A4
Available in monochrome – Wide range of optional accessories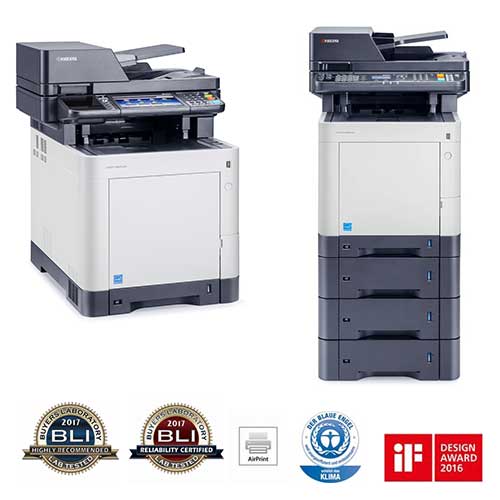 Up to 35 pages per minute in A4 colour and monochrome
Ultra-fast controller with a 1 Ghz processor and 1 GB of RAM
Ultra-fast scanning up to 60 ipm via a 75-sheet paper feeder
Standard printing, copy, scanning fax and two-side functions
The 7-inch colour control monitor with welcome screen offers easy access to the HyPAS solution platform for efficient customization
Mobile printing handled, including AirPrint, Mopria, KYOCERA Mobile Print
This multifunction A4 colour machine is specially designed for small and medium-sized working groups. Very reliable, it offers fast output speeds, both in colour and in monochrome. The intuitive touch screen offers direct access to the numerous functions of this multi-purpose machine. Furthermore, with program buttons dedicated to the KYOCERA HyPAS open solution platform, you can streamline your document workflow.
Kyocera multifunction printer (colour) – A3/A4
Available in monochrome – Wide range of optional accessories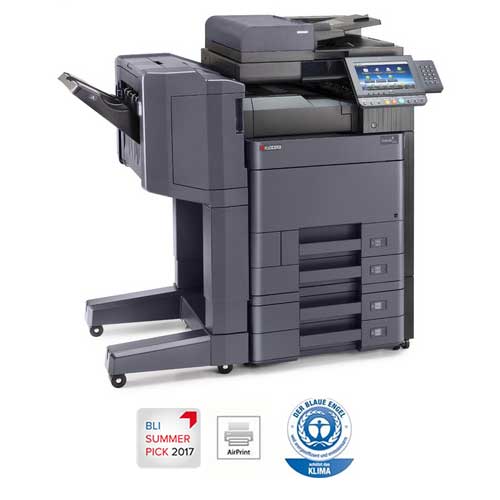 Modularity: various paper options (tray, paper feeder) and finish options: letterbox, stapling, perforation, booklet, fold in 2 and 3
Productivity: up to 50 ppm in colour and monochrome, scan rate of up to 180 ipm
Easy to use: large colour touch screen swivelling 90°
Multifunction customization: the integrated HyPAS platform software integrates the multifunction machine into existing workflows
Flexibility: SRA3* format handled and the possibility of printing on 300 g/m*²
The TASKalfa multifunction printer range offers speed, versatility and high-quality colour printing. When you process high volumes, you can count on KYOCERA's long service life technology to keep downtime to a minimum, only the toner cartridge needs changing every 600,000 pages. Finally, the TASKalfa 5052ci fits easily into your existing workflow thanks to the HyPAS solution platform or the Fiery printing controller.
Kyocera multifunction printer (colour) – A3/A4
Available in monochrome – Wide range of optional accessories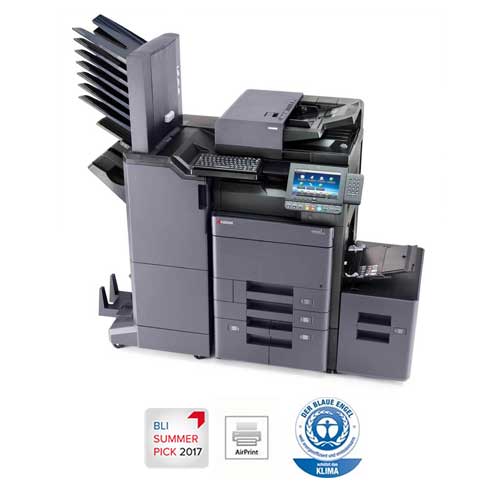 Optimized print jobs: optional built-in FIERY printing controller to manage workflows and colorimetry
Productivity: scanning speed of 220 ipm, ideal for archiving documents
Flexibility: prints banners, handles the A3+ format, paper weights of up to 300 g, different output options including booklet, fold in 2, fold in C
Quality: print resolution of 1,200 dpi
Maximum print rate: Up to 80 ppm (mono)/up to 70 ppm (colour)
The TASKalfa copier range is the best choice for workgroups having high print volumes and production environments. It meets the specific needs of such environments thanks to its productivity, flexible paper management and the different output options available. The optional Fiery controller enhances colour quality and productivity even more. Compatible with the main mobile printing protocols, users can simply print and scan documents from their tablet or smartphone.